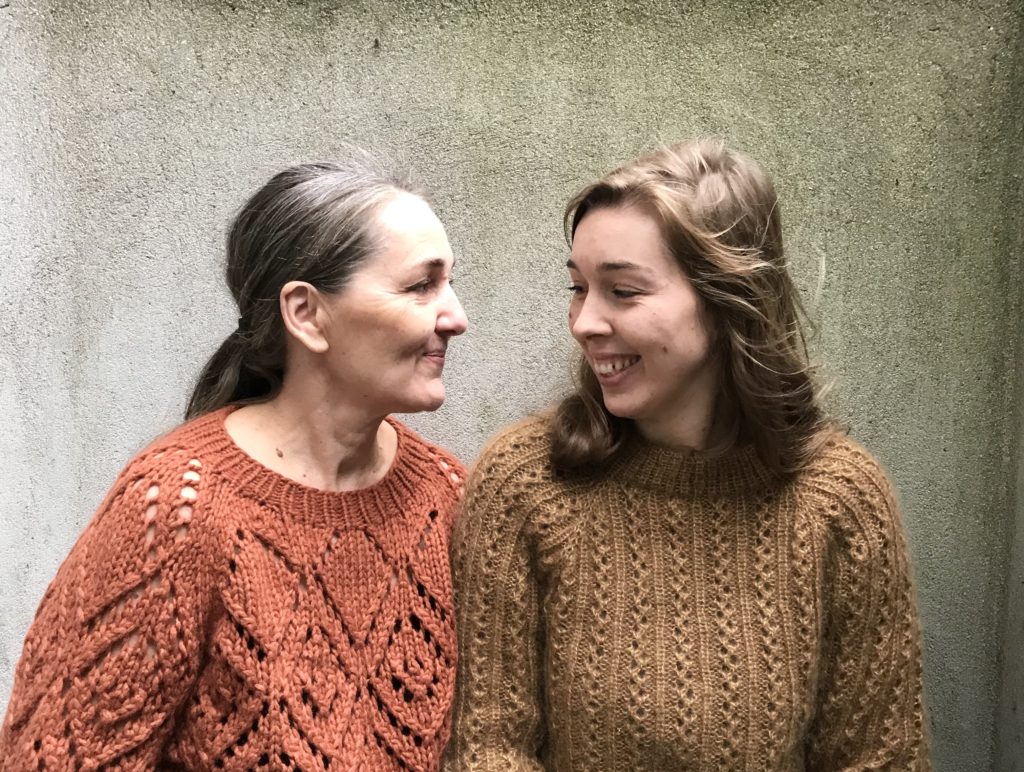 BACKGROUND
Who is Knitting For Olive?
Knitting for Olive is a family business run by mother and daughter, Pernille and Caroline. We design knitwear for babies, children and adults, and have our own brand of yarn made from pure natural fibres.
We find inspiration for our designs in our own children. The designs are made with children's needs in consideration, added Pernille's urge to make something detailed and technically challenging.


How was Knitting For Olive born?
Knitting for Olive was born in 2015, when Pernille's second grandchild was born. Pernille had been knitting a lot for both grandchildren, and while Caroline was on maternity leaves with the newest baby, we decided to try to start selling the patterns for the designs, Pernille had previously had in her mind.
We created a small webshop and an Instagram account, and have since opened a small shop in Copenhagen, and have a new shop on the way.


How would you define knitwear from Denmark?
Knitwear has become very popular for young mothers and young women in general, and there's a growing focus on sustainability and the process of being able to make long lasting things yourself, that you are able to pass on to other siblings or friends.
Knitting is something that brings people together, knitting cafés are pupping up, and Instagram relations are made between knitters, that often turn into friendships.
When it comes to Danish design, knitwear is often very classic and simple, yet detailed in construction. A lot of Danish knitwear designers, including us, prefer to use yarn made from natural fibres with focus on sustainability and animal welfare.
Colorwise you see a lot of natural, earthy colors, variating with the seasons, in Danish knitwear fashion.
Do you have a favourite knitting stitch?

We don't have a favorite knitting stitch, we like experimenting with lots of different stitches.
COLLECTION
Which one is your favourite piece of your collection with We Are Knitters?
We like the Nordic Flower Sweater a lot, it's simple, yet detailed. It has a nice chunkiness to it, which is nice for a cool summer night, and under a jacket in the winter. And most importantly, the flowers will make lots of little children happy.
What was your inspiration to create this collection?
We find lots of inspiration in nature and our surroundings, and giving the collection Nordic touch came natural to us.
For the collection you worked with different We Are Knitters yarn. How was your experience?
From the very beginning we enjoyed the options of beautiful colors on the website. Receiving the yarns in a thick paper bag was a true pleasure. We enjoyed working with all wood needles, and the different yarns were great to work with as well.
The overall experiencing of a very thought through process and range of products, was highly enjoyable.
WE ARE KNITTERS
How did you know We Are Knitters?
We met you on Instagram!
Why did you decide to collaborate with us?
We found it interesting and challenging to get the opportunity to work with a different quality and weight of yarn than our own. On top of that, we like the WAK universe and found WAK to be a perfect match for us making a mutual kits.
What do you like the most about We Are Knitters?
We like the grounded, homey, natural vibe that WAK represents. We like the coolness of your image, your color range and your thought through packaging.